Hours
Welcome to the Fall 2023 Pecan & Avocado season.
We will be open from Friday October 27th, through Saturday December 23rd. Best hours are 1 p.m. to 4:30 pm daily. There may be 1 or 2 afternoons when we will be closed. You may text 321-223-4288 to check in advance of coming.
Our avocados are the large Hall variety, locally grown in Merritt Island. 2023 NEW HARVEST pecans are from Valdosta, Georgia, near our 22-acre pecan grove. As in the past we have them in the shell, any quantity, and also shelled in 1 lb bags. We have mammoth halves for baking pies & cookies as well as various flavors including Praline, Roasted & Salted, Honey Toasted, and Cinnamon. There are discounts for volume purchases. Pricing is the same as last year (no inflation)! These pecans make great Christmas gifts. Think: family & friends, the hairdresser, dog groomer, teacher, mail carrier, Company gifts, etc. Pecans freeze perfectly for 9 or 10 months, and are one of the Healthiest foods you can eat. So buy enough to last you until next October.
King Regards,
Roger
About Us
Four Lions Tropical Orchard is located in Merritt Island, FL, just 1/3 mile south of the Pineda Causeway. Our name comes from the four lion statues near the front gate that watch over the grove. Everything we grow is all-natural and pesticide free to the best of our ability.

We offer over twenty different varieties of mangoes throughout the season with up to five varieties available each day.

In November and December, we offer Georgia Pecans grown at and near our 22-acre pecan farm in Valdosta, GA. Depending on the time of year, we may also have papayas, starfruit, pink guava, mulberries, and ghost peppers available.

Mango Season: June to August
Pecan & Avocado Season: November and December
Closed: January – May and September – October

Please note that we only accept cash as payment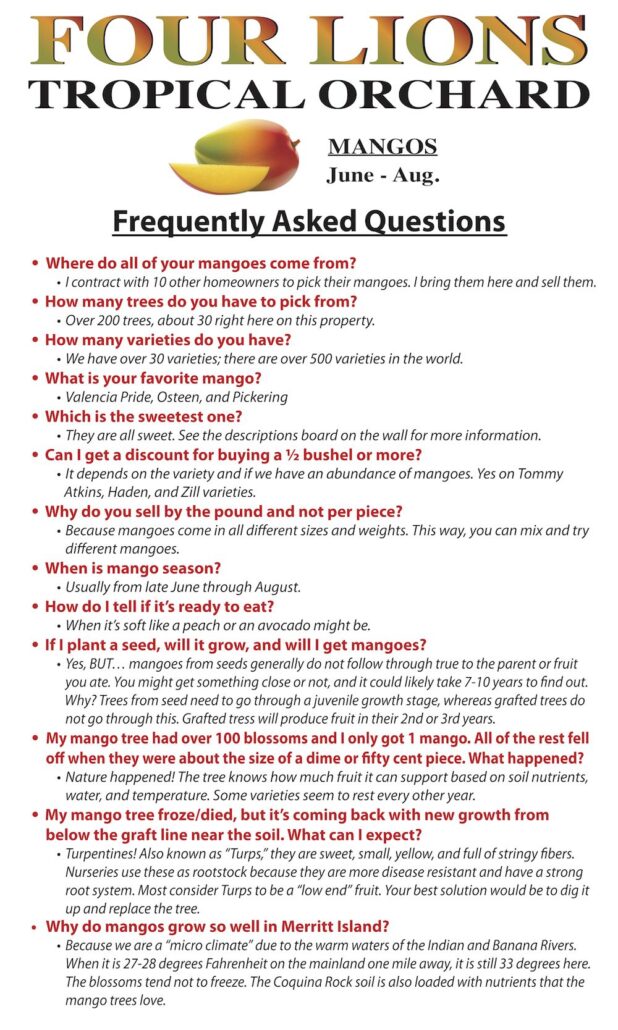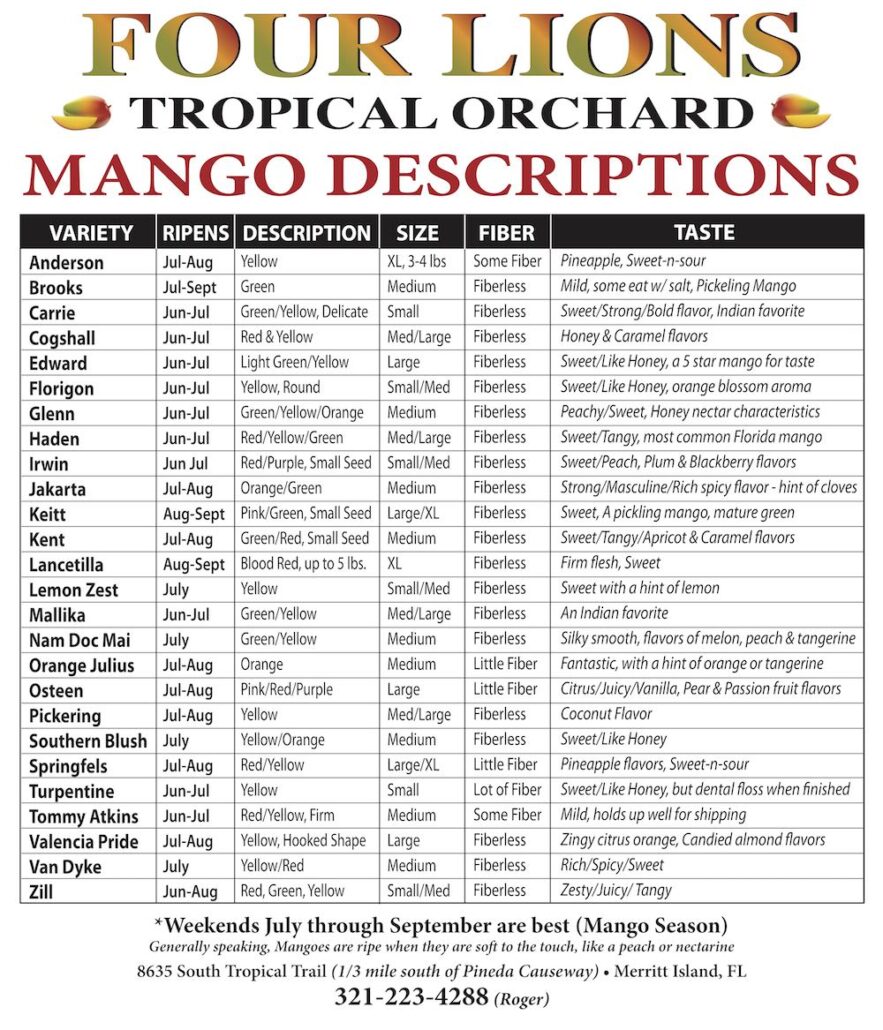 Contact Us
Address
8635 South Tropical Trail
Merritt Island, FL 32952

Phone
(Text only) 321-223-4288

Email
roger.jubert321@gmail.com